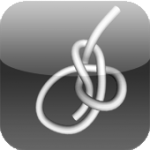 Our free app, Knot Quiz, is now available on the app store!
Knot Quiz is a fun iOS application designed to test your knowledge of ropecraft! So you think you know your bights from your bends, your loops from your hitches? Give the free app a try and see how well you know 12 basic knots. When you are ready, purchase add-on packs that add more advanced knots to the fray!
The knots are tied "loosely" in each image so you can see better how to tie them. A helpful hint button lets you know what the knot is used for and what other names it may be known by.
Knots include:
Overhand Knot
Stevedore's Knot
Figure 8
Surgeon's Knot
Fisherman's Knot
Granny Knot
Bow Knot
Lariat Loop
Larks Head Hitch
Cats Paw
Running Knot
Thief Knot